BJJ gi kimono Kingz The One - Blue + white belt
Code:
KNGZ_174627/A1
KNGZ_174627/A1L
KNGZ_174627/A2
KNGZ_174627/A2L
KNGZ_174627/A2H
KNGZ_174627/A3
Choose variant
Related products
Product detailed description
With its sleek design and exceptional construction, The One Kimono is an excellent choice for practitioners looking for a gi that will withstand the rigors of the mat like top-priced kimonos, but without breaking the bank. 

The Kingz Basic kimono features a 400 GSM High-Tech Pearl Weave jacket, made from a single piece of fabric, and with ample reinforcements in all the major stress points. The lapel is made from a single piece of synthetic heat resistant vulcanized rubber, which keeps the gi light, allows for faster drying, and keeps your lapel fungus and bacteria free.  Simple high density embroideries on each arm with the iconic Kingz crown on the back of the neck, as well as The One logo on the front of the skirt. Both durable and extremely comfortable, the pants are made of 100% 10 oz cotton, with Kingz crown on the right thigh and The One logo on the left shin. The interior seams, which are most vulnerable and susceptible to fraying, are reinforced by soft cotton taping. 

The One kimono delivers a remarkable level of comfort and quality, and is excellent for day-to-day training at any experience level.

GI JACKET FEATURES:
400 GSM High Tech Pearl Weave jacket
Triple reinforced stitching across all stress points
Made of one piece fabric for superior strength and durability
Synthetic heat resistant vulcanized rubber lapel insert
Soft cotton seam taping
95% preshrunk (expect the slightest bit of shrink)

PANTS FEATURES:
10 oz cotton material
Double reinforced knee padding
Cord drawstring with 6 loops
*100% IBJJF Legal

White belt is included.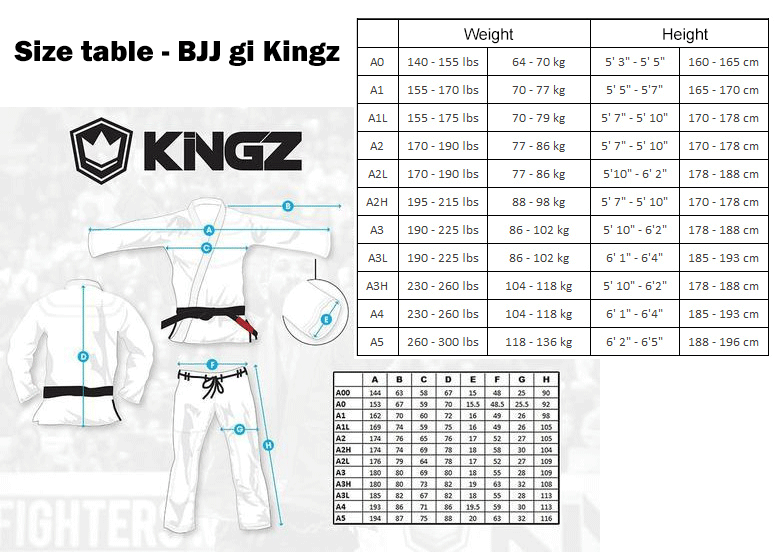 Be the first who will post an article to this item!
Only registered users may post articles. Please log in or register.
Be the first who will post an article to this item!