BJJ Gi Venum REORG - Sand
Code:
VENUM-04718-040/A1
VENUM-04718-040/A15
VENUM-04718-040/A2
VENUM-04718-040/A25
VENUM-04718-040/A3
VENUM-04718-040/A35
VENUM-04718-040/A4
Choose variant
Product detailed description
REORG is an English association which helps veterans, serving soldiers and emergency responders to overcome physical or mental trauma suffered in combat or on a daily basis in the exercise of their duties.
Practicing Brazilian Jiu Jitsu and/or fitness is the solution offered by REORG to help rebuild those who sometimes thought they had lost everything.
With the "REORG by Venum" collection we want to show our admiration for the actions undertaken by REORG.
Even if it may seem obvious, we would like to point out that the profits made on the sales of the "REORG by Venum" collection will be entirely donated to the association.
The Venum Reorg BJJ kimono consists of a Pearl Wave 350 gsm cotton jacket and pants that is solidly reinforced at all stress points, for better durability.
Its stiffened EVA collar will help you better resist grabs and counter attacks from your opponents.
Designed to resist tears and the wear and tear of time, his pants are made of a 226 gsm Ripstop fabric and are reinforced at the knees.
The Venum Reorg BJJ kimono will accompany you training after training, fight after fight, without losing its quality.
Mehdi is 5'9" tall and wears size A2.
Technical Features
Jacket :
Material: Pearl Wave Cotton 350 gsm.
Reinforcements at the side openings, the bottom of the sleeves and the bottom of the jacket.
EVA collar: better resistance to strangulation. Embroidery on the front and back of the jacket.
3D sublimated woven patch: on the bottom of the jacket.
Pants :
Material: 226gsm Ripstop.
Reinforcements at the knees, crotch and around the ankle.
Sturdy drawstring for an efficient tightening system.
Venum logo embroidered on the left leg. Pre-shrunk kimono.
IBJJF approved kimono.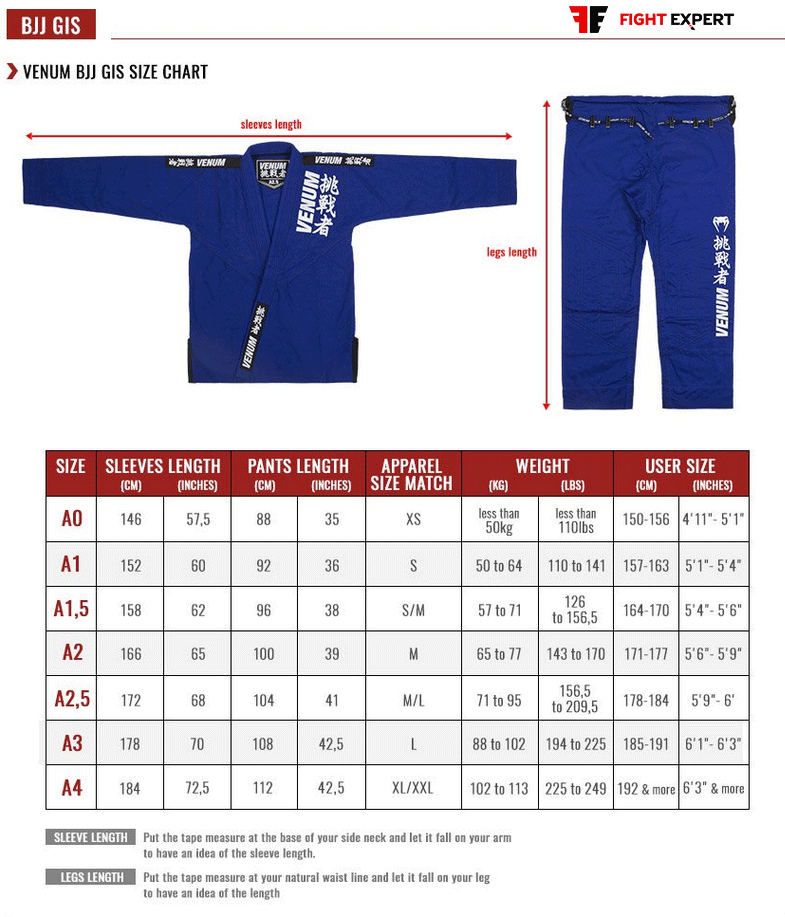 Be the first who will post an article to this item!
Only registered users may post articles. Please log in or register.
Be the first who will post an article to this item!