BJJ gi kimono Tatami Elements Superlite - BLACK + FREE WHITE BELT
Code:
TTM_243993/A0
TTM_243993/A1
TTM_243993/A1L
TTM_243993/A2
TTM_243993/A2L
TTM_243993/A2XL
TTM_243993/A2H
TTM_243993/A3
TTM_243993/A3L
TTM_243993/A4
TTM_243993/A5
Choose variant
Related products
Product detailed description
HIGHLIGHTS
- Available in 5 colours
- Lightweight gi
- 300GSM pearl weave jacket
- 8oz ripstop pants
- High quality embroidery featuring Tatami/jiu jitsu logos on jacket & pants
- Tatami branded label stitched to front collar & the back of jacket hem
- Side vents on jacket
- Tatami branded drawcord on pants
- Gi comes with a FREE white belt
FIT
- JT Torres is 5'7 in height & wears a size A2
MATERIALS & WASHING INSTRUCTIONS
- 100% cotton
- 30° wash cold
- Hang dry
Please allow for 5% shrinkage after washing
If you buying BJJ gi for the first time, surely read the article how choose BJJ gi - ultimate guide.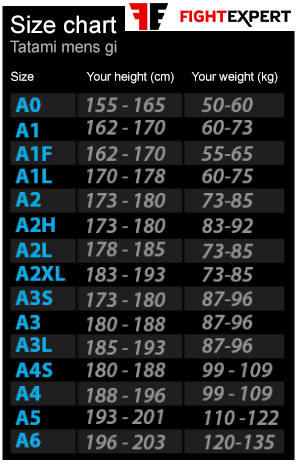 Be the first who will post an article to this item!
Only registered users may post articles. Please log in or register.
Be the first who will post an article to this item!