Boxing Shoes Venum Giant Low - Black/Red
Code:
VENUM-03910-100/EU
VENUM-03910-100/EU2
VENUM-03910-100/EU3
VENUM-03910-100/EU4
VENUM-03910-100/EU5
VENUM-03910-100/EU6
VENUM-03910-100/EU7
VENUM-03910-100/EU8
VENUM-03910-100/EU9
VENUM-03910-100/EU10
VENUM-03910-100/EU11
VENUM-03910-100/EU12
VENUM-03910-100/EU13
VENUM-03910-100/EU14
VENUM-03910-100/EU15
VENUM-03910-100/EU16
Choose variant
Related products
Product detailed description
After two years of research and development, VENUM is proud to present our first professional boxing shoe.
The Giant boxing shoes are the result of strategic research, development and collaboration between our product engineers and #TeamVenum boxing champions.
Battle tested in training and live bouts, VENUM fighters Vasyl Lomachenko and Jorge Linares have had the privilege of experiencing the support, stability and grip of the Venum Giant Low boxing shoe.
Our goal was not to offer 'just' another boxing shoe, but the best product available on the market.
The sole was one of the most intricate components to develop. Whilst necessary to combine characteristics such as lightness, strength, stability and grip, it had to provide explosive support to allow a boxer to move very quickly in any direction.
Whilst including these dynamic qualities, the Venum boxing shoe had to offer comfort and protection to the wearer. The insole was designed to perfectly fit the plantar arch of the foot, without being too bulky or uncomfortable.
The Giant boxing shoes brings a touch of style and technicality thanks to the velcro fastening system which reinforces the classic lace-up tightening to offer even more support during lateral movements.
Although performance was at the heart of the design, being a Venum product, style and design have not been forgotten.
Technical Features
Tri-material: Glossy PU Patent, PU Flex, Mesh Honeycomb.
Rubber outsole: increased grip, durability and stability.
Optimized comfort with anatomical designed insole.
Bonded insole to prevent slipping.
Optimal lateral support.
Unique, cutting edge design.
Tested and approved by Venum athletes: Lomachenko and Linares.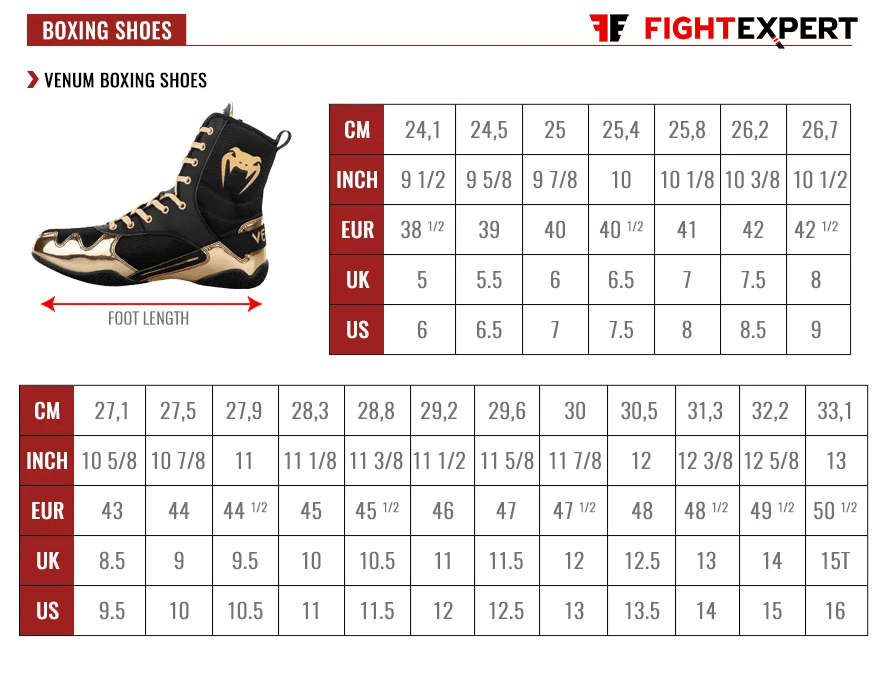 Be the first who will post an article to this item!