BJJ Kimono Gi Kingz Nano 2.0 White + gi bag
Code:
KNGZ_174642/A0
KNGZ_174642/A1
KNGZ_174642/A1L
KNGZ_174642/A2
KNGZ_174642/A2L
KNGZ_174642/A3
KNGZ_174642/A3L
KNGZ_174642/A4
Choose variant
Related products
Product detailed description
With the Kingz Nanō 2.0 kimono, we updated the competitor's favourite lightweight kimono, with the same strength as the original Nanō, the 2.0 offers 4 new colourways and a comfortable, stylish fit.
The Kingz Nanō kimono features a 400 GSM Pearl Weave jacket, made from a single piece of fabric, with synthetic heat resistant vulcanized rubber lapel, and pants that are made from a comfortable 8 oz drill cotton material (not ripstop, like most ultralight gis), with double reinforced padding on the knees. Designed simply and elegantly, the Kingz Nanō is adorned with high-quality embroidered Kingz logos (as opposed to woven patches) on the shoulders and back, and a custom "Nanō" 2.0 logo on the collarbone and shin of the pants. The white colourway features light blue embroideries and a custom drawstring bag.

GI JACKET FEATURES:
400 GSM Pearl Weave
Triple reinforced stitching across all stress points
Made of one piece of fabric for superior strength and durability
Synthetic heat resistant vulcanized lapel insert
90% preshrunk
PANTS FEATURES:
8 oz drill cotton
Double reinforced knee padding
Custom detailed stretchy drawstring
*100% IBJJF legal.
*Belt not included in drawstring bag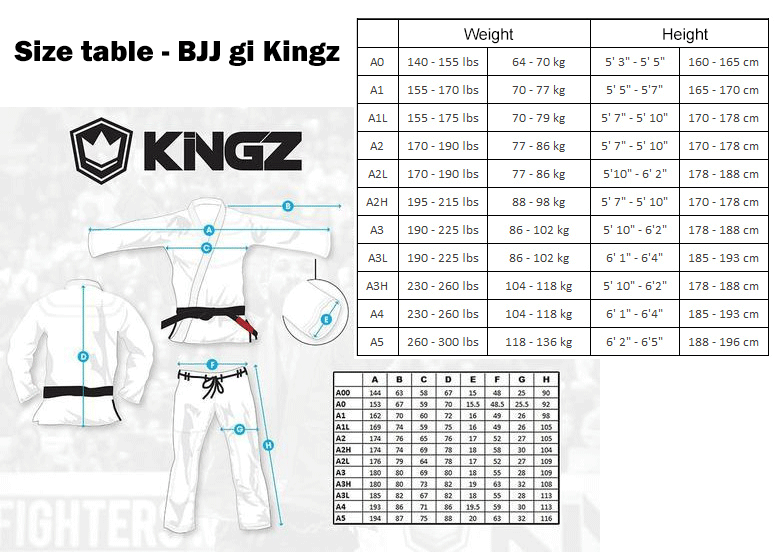 Be the first who will post an article to this item!