BJJ gi kimono Kingz Classic Jiu Jitsu 3.0 - Millitary green
Code:
KNGZ_219056/A3
Related products
Product detailed description
What's better than our Classic 2.0? Our Classic 3.0! We've taken that same exceptional construction and sleek, streamlined look, and added a bold new color scheme. 
The jacket of the Classic kimono is made from 450 GSM Pearl Weave Plus, which is a tighter weave than the regular Pearl Weave fabric, shrinks less, and is incredibly soft. The jacket is also made from a single piece of fabric, with ample reinforcements in all the major stress points, and a synthetic heat resistant vulcanized rubber lapel, which keeps the gi light, allows for faster drying, and keeps your lapel fungus and bacteria free. The pants are made from 100% 10 oz drill cotton fabric, perfect for both the daily grind and the tournament setting.
Like all things classic, we made the aesthetic of the Kingz Classic gi super clean and streamlined, featuring the Kingz crown logo embroidered with high-quality thread on both shoulders, on the back below the collar, and the front hip of the pants.
We've said it once, and we'll say it again: There's nothing like a classic. 
GI JACKET FEATURES:
450 GSM Pearl Weave Plus
Triple reinforced stitching across all stress points
Made of one piece of fabric for superior strength and durability
Synthetic heat resistant vulcanized rubber lapel insert
Soft, custom seam taping
PANTS FEATURES:
10 oz cotton drill
Double reinforced knee padding
Stretchy drawstring closure
*100% IBJJF legal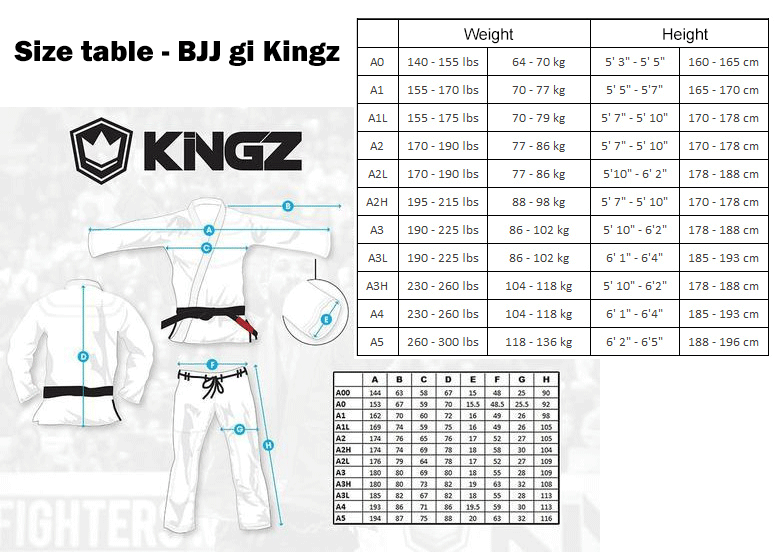 Be the first who will post an article to this item!