BJJ gi kimono Gi Kingz Comp 450 V5 - BLUE
Code:
KNG_BJJGI_COMP_BLUE/A2
KNG_BJJGI_COMP_BLUE/A3
Choose variant
Related products
Product detailed description
Now in its fifth edition, the Kingz Comp 450 V5, our latest version has been updates to include new embroideries on the leg and clean cut shoulder stitching to keep you looking sharp on the mat and in competition!
The Kingz Comp 450 V5 kimono has become a standard in our lineup, featuring a 450 GSM Pearl Weave jacket, made from a single piece of fabric, and with ample reinforcements in all the major stress points. The lapel is made from a single piece of synthetic heat resistant vulcanized rubber, which keeps the gi light, allows for faster drying, and keeps your lapel fungus and bacteria free. The iconic Kingz wording is embroidered along both shoulders, a Kingz crown logo is embroidered on the back below the collar, as well as being on the right thigh. The medieval lion is stitched towards the bottom of the lapel and just below the left knee. Both durable and extremely comfortable, the pants are made of 100% 10 oz drill cotton, perfect for both the daily grind and the tournament setting. "Heavy lies the crown"
GI JACKET FEATURES: 
450 GSM Pearl Weave
Triple reinforced stitching across all stress points
Made of one piece of fabric for superior strength and durability
Synthetic heat resistant vulcanized rubber lapel insert
Soft, custom seam taping
90% preshrunk (expect only the slightest bit of shrink)
PANTS FEATURES:
10 oz cotton drill
Double reinforced knee padding
Custom detailed stretchy drawstring
*100% IBJJF legal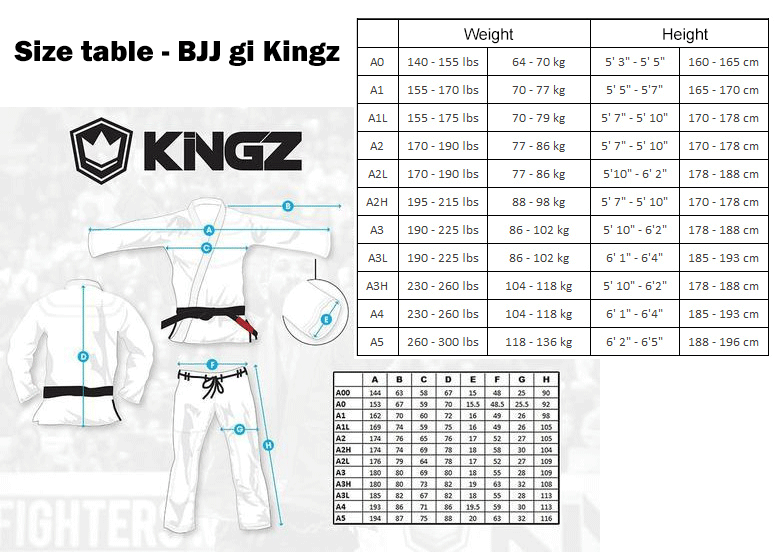 Be the first who will post an article to this item!