BJJ gi kimono Gi Kingz Balistico 2.0 - BLACK + gi bag
Code:
KNG_BJJGI_BALISTICOCERNE/A3
Related products
Product detailed description
The Kingz Balistico 2.0 kimono is our new and improved Balistico.
This is a special edition of one of our most popular gis, the Kingz Lightweight kimono, one of the strongest and most technically advanced gis on the market. Balístico - the Portuguese word for "ballistic" - refers to the science of the movement of objects or projectiles that are shot or forced to move forward in the air... like you when you're launching yourself toward your opponent. 

The Kingz Balistico kimono features a 480 GSM cotton Pearl Weave jacket, made from a single piece of fabric, with ample reinforcements in all the major stress points. The fabric itself undergoes a rigorous preshrinking process, so you never have to worry about your gi getting shorter and tighter with every wash. The lapel is made from synthetic heat resistant vulcanized rubber, covered in the same ripstop material as the pants, which keeps the gi light, allows for faster drying, and keeps your lapel fungus and bacteria free. The jacket is adorned simply in matching Balistico logos (a distinctive eagle design) embroidered on the upper sleeves, on the back underneath the collar, and with Balistico emblazoned under the left rib cage. The pants are made from light, yet extremely durable, 8 oz cotton/polyester ripstop material.

Our favorite details, however, are the NO-Grip sleeve technology and the Coolmax® lining across the inside of the shoulders and side vents of the jacket. An extra layer of ripstop on the inside of the sleeves makes it extremely hard for your opponent to maintain an iron grip. And the patented Coolmax® lining - subliminated with the Balistico eagle design - keeps you cool and refreshed, even during the hardest training session.

*100% IBJJF legal

FULL PRODUCT FEATURES:
100% cotton jacket and pants
100% preshrunk for an ideal fit
Triple reinforced stitching across all stress points
Quick dry and fully breathable

GI JACKET FEATURES:
480 GSM Pearl Weave
NO-Grip sleeve technology
Coolmax® lining (inside shoulders and side vents)
High stitch count embroidered logos
Custom seam taping
Made of one piece fabric for superior strength and durability
Synthetic heat resistant vulcanized rubber lapel insert
Subtle contrast stitching
100% preshrunk

PANTS FEATURES:
8 oz cotton/polyester ripstop material
Double reinforced knee padding, triple stitched with over lapped seam
Custom detailed Kingz stretchy drawstring
Subtle contrast stitching
*Includes a FREE Kingz gi bag
*Belt not included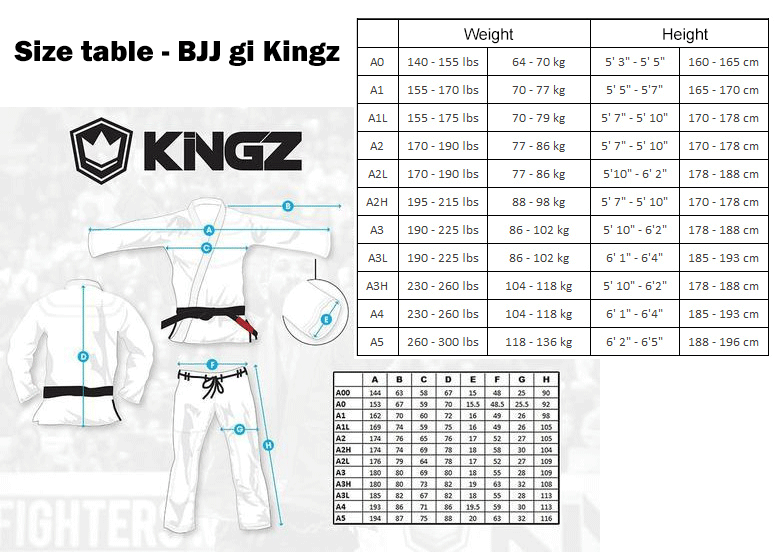 Be the first who will post an article to this item!